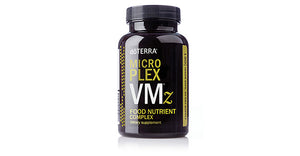 PRODUCT DESCRIPTION
dōTERRA Microplex VMz® Multi-Vitamin/Mineral is a nutrient formula of vitamins and minerals that are often deficient in our modern diets. The formula includes a balanced blend of antioxidant vitamins A, C, and a complex of B vitamins presented in a patented glycoprotein matrix. Microplex VMz also contains minerals including calcium, magnesium, and zinc for the maintenance of bones and the body's ability to metabolize nutrients. Microplex VMz contains the dōTERRA tummy tamer botanical blend of Peppermint, Ginger, and Caraway to aid in digestion. Microplex VMz is encapsulated using sodium lauryl sulfate-free vegetable capsules.
CONCEPT
While it is abundantly clear that diets in many developed countries include adequate and even an overabundance of calories, a growing body of evidence shows that even as we eat more, we are obtaining less of the essential nutrients vital for optimal health. Over-processed, calorie-rich, nutrient-poor food choices threaten to make us fat even as our bodies are deprived of vitamins, minerals, and other essential nutrients. The American Medical Association acknowledges the prudence of taking nutritional supplements, admitting that while "the clinical syndromes of vitamin deficiencies are unusual in Western societies, suboptimal vitamin status is not" (Journal of the American Medical Association, June 19, 2002).
Microplex VMz is a comprehensive array of vitamins and minerals presented in a nutrient complex that is intended to aid in normal growth and development of red blood cells and normal electrolyte balance, while promoting overall wellness. Microplex VMz provides a balanced blend of vitamins A, B, and C, and 800 IU of vitamin D per day. It also contains important minerals to help in energy metabolism, and calcium, magnesium, and zinc for the maintenance of bones.
DIRECTIONS FOR USE
Adults, take 4 vegetable capsules per day with food. Use as directed