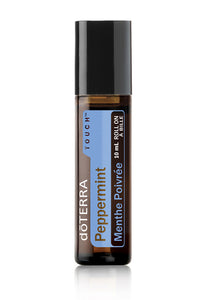 Distilled from the fresh leaves of the peppermint plant comes one of the best-selling doTERRA essential oils—Peppermint. The favourite, cool, minty Peppermint essential oil is expertly combined in a base of Fractionated Coconut Oil to create doTERRA Touch Peppermint. This roller shares the energizing topical benefits of Peppermint essential oil you know and love, pre-diluted for easy application and perfect for children and those with sensitive skin.
Uses
Cosmetic
Massage doTERRA Touch Peppermint into neck and shoulders for a relaxing aroma during a soothing massage.
Rub doTERRA Touch Peppermint on temples when studying or when waking up for a refreshing aromatic boost.
Apply doTERRA Touch Peppermint before attending outdoor events for a pleasant, lasting aroma.