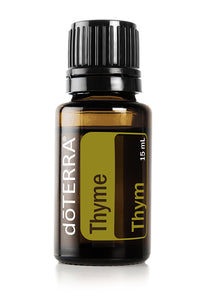 Uses
Cosmetic
Add one drop Thyme oil to a nickel-sized dollop of shampoo for youthful, healthy-looking hair,
Add three drops Thyme essential oil to a warm foot bath to improve feet's appearance.
Combine one drop Thyme oil with 120 mL of water and gargle to freshen breathe.
Incorporate one to two drops Thyme oil with at least 15 drops Fractionated Coconut Oil for an invigorating aroma during a soothing chest massage.
Dilute one drop Thyme oil with at least ten drops Fractionated Coconut Oil and apply to targeted areas to clean skin or nails.
Food
Add two to three drops Thyme oil as a flavoring in marinades.
Household
Use two to three drops Thyme oil in a naturally sourced all-purpose surface spray to cleanse and purify common surfaces in the bathroom or kitchen.
Directions for Use
Diffusion:
Use three to four drops in the diffuser of your choice.
Internal use:
Dilute one drop in 120 mL of liquid.
Topical use:
Apply one to two drops to desired area. Dilute with a carrier oil to minimize any skin sensitivity.