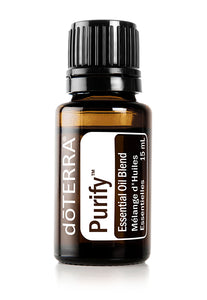 Ingredients: Lemon, Siberian Fir, Citronella, Lime, Tea Tree, Cilantro.
Aromatic Description: Fresh, airy, herbal
Uses
Cosmetic
Apply topically for a cooling sensation.
 Household
Diffuse to cleanse the air of unwanted odors. 
Apply to a cotton ball and place in car's AC vent for a refreshing aroma. 
Add a drop to laundry for an additional cleansing boost and fresh scent. 
Add 10 drops to water in a spray bottle and use to wipe down countertops and other surfaces.