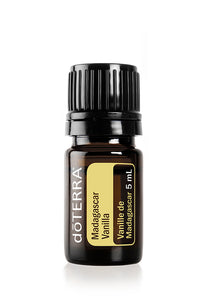 Uses
Cosmetic
Use one drop of Madagascar Vanilla absolute as the base for a captivating personal fragrance.
Add a few drops of Madagascar Vanilla to a warm bath.
Blend Madagascar Vanilla into a body lotion for a decadent moisturizing experience.
Household
Diffuse by adding to a favorite CPTG essential oil or oil blend.
Directions for Use
Diffusion:
Add two to three drops to your favorite essential oil blend.
Topical use:
Apply one to two drops to desired area. Dilute with a carrier oil to minimize any skin sensitivity.