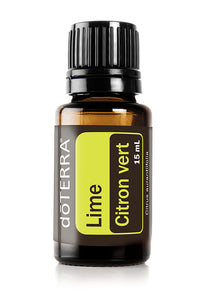 Uses
Cosmetic
Add one drop of Lime essential oil to evening facial cleanser to give complexion a healthy-looking glow.
Combine one drop of Lime oil with five drops of Fractionated Coconut Oil and massage into cuticles for healthy-looking fingernails and toenails.
Combine one drop of Lime oil with a dollop shampoo and massage into scalp and hair for added cleansing benefits.
Food
Add two drops of Lime oil to drinking water for a refreshing flavour.
Add a drop of Lime oil to salsa, guacamole, or dips for an enhanced flavour.
Household
Diffuse three to four drops of Lime oil to freshen the air.
Place a few drops of Lime oil on a rag to help remove stubborn, sticky residue.
Add 10-15 drops of Lime oil to a glass spray bottle of water to clean tables, counter tops, and other surfaces.
Directions for Use
Diffusion: Use three to four drops in the diffuser of your choice.
Internal use: Dilute one drop in 120 mL of liquid.
Topical use: Apply one to two drops to desired area. Dilute with a carrier oil to minimize any skin sensitivity.