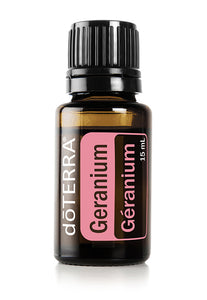 Uses
Cosmetics
Apply two drops of Geranium essential oil to underarms before applying deodorant for a lasting fragrance during outdoor activities.
Combine one drop of Geranium oil with shampoo to help balance moisture and improve the appearance of hair.
Use two to three drops of Geranium essential oil topically on the skin after a shower for a smoothing effect and a refreshing, floral aroma.
Add two drops of Geranium oil to your daily facial moisturizer to soothe dryness and improve the appearance of skin.
Apply Geranium essential oil directly to skin or enjoy an aromatherapy steam facial to beautify and clean the skin.
Household
Diffuse Geranium oil with equal parts Lemon oil and Grapefruit oil for a relaxing, spring scent.
Directions for Use
Diffusion: Use three to four drops in the diffuser of your choice.
Internal use: Dilute one drop in 120 mL of liquid.
Topical use: Apply one to two drops to desired area. Dilute with a carrier oil to minimize any skin sensitivity.