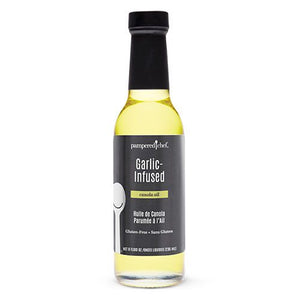 Canadian Canola oil infused with fresh garlic adds great garlic flavor to meats, vegetables, salad dressings, and Italian foods. Delicious as a bread dipper, too. This versatile oil can be substituted for other oils to add real garlic flavor to your favorite dishes. 8 fl. oz. (236 mL) Gluten-free.
Use as a bread dipper, on grilled meats and vegetables, or in pata or salad dressing.
Ingredient: Canola oil (product of Canada), fresh garlic.
Gluten-free.
Store in a cool, dry place.